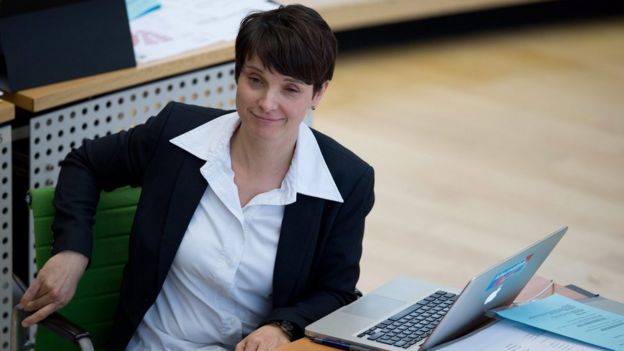 Es ist bezeichnend, wie berufsempörte etablierte Politiker und Journalisten eine demokratische Wahl als Apokalypse verkaufen.#USAWahl2016*

— Frauke Petry (@FraukePetry) November 9, 2016
"It's telling that establishment politicians and journalists are selling a democratic election as the apocalypse"
Two days after the election, many in the United States and across the world feel like this is the apocalypse. The only reason Petry isn't proclaiming the apocalypse is because the party she agrees with won. If Hilary had won, Petry surely would be declaring the end of the world.
I understand the apocalyptic sentiment, although I disagree that the world is about to end. I also disagree that the far-right is an American phenomenon: the rise of extreme right populism globally shows that nativism and racism are prevalent.
Whiteness and patriarchy are clutching to privilege , and let's hope this is it's last chance to maintain hegemonic power. About that, I am less hopeful: privilege reproduces privilege, and if there's anything 500 years of imperial conquest has shown, it's that whiteness and patriarchy are incredibly protean and adaptive. But the protest culture in US society is healthy – and must get healthier. BlackLivesMatter, NoDAPL, trans* agitation, and the access to quality, alternative journalism are just some of the signs that resistance is possible, probable and holds political potential.
One of the gaps in coverage about the far-right in both countries has been the occasional lack of inclusion of LGBTQI identities as a targeted identity by the far-right. While – rightly so – racial, immigrant and religious identities are frequently identified as the targets of Trump's wrath, Vice President-elect Mike Pence has made gay conversion therapy part of his platform. Trump just appointed a staunchly anti-gay politician, Ken Blackwell, to head his domestic transition team. The attacks on so-called "Gender Mainstreaming" in the AfD party have also received remarkably little media attention, but are starting to emerge as an issue given more press time from the AfD.
On November 6, two days before the US election, Frauke Petry gave a speech in Pforzheim that queer.de called a "taste of the coming national parliamentary campaign." In this speech, Petry declared that "normal" families needed to be protected from educational programs which are covered in "gender sauce." She sowed factually inaccurate information, saying that parents of school children would be required to pay for gender courses (whatever that is). She denied that homophobia was a problem, and asked parents to stand up for their (cis, hetero) children. She also declared the "classical family" to be a valuable institution, because it provides the country with children. Earlier this summer, Petry declared that there were too many gays on television.
This kind of homophobic politicking is common for those of us who grew up in the US. I've seen versions of these arguments in German spaces before, especially in arguments about two-parent adoption and gay marriage. Beyond discussions of sexism directed against female candidates, we need to pay strict attention to the ways in which family structure and kinship networks are used to reflect images of the nation. This moves beyond discussion of homonationalism, where minorities are painted as homophobic and whites are painted as homophilic. Nationalistic groups in the US and Germany are hardly homophilic.
Call a spade a spade.